Attn Jewish Teen Girls!
Summer plans canceled by corona?
You can still have a BREAKOUT summer!
Countdown to Jewish UnCamp Summer 2020
Session 2 | July 6-10
It's not too late to sign up and catch session 2!
What is the Jewish UnCamp?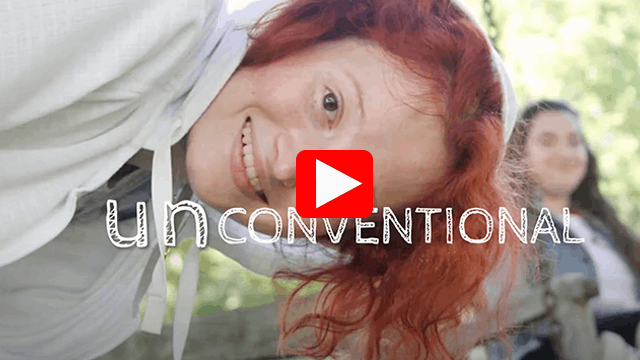 Sign up for Session 2 of Virtual UnCamp.
Above all, do not miss out!
They're smart, insightful and funny and only want the best for you.
Meet this summer's staff.
Rabbi Manis Friedman
Don't miss Rabbi Friedman's epic Q&A, your chance to get answers that actually make sense. He covers it all, from love to technology, from anxiety to free will, from our souls to world peace and justice.
Aarah Aizman
Leave behind everything you thought you knew about art and artists. Aarah is more coach than instructor. She wants to see you experiment and explore – not strive for perfection.
Shifra Sharfstein
Shifra's the unstoppable co-director of Chabad at Georgia Tech and State. A passionate teacher who'll give you pointers for making mitzvos real and doable, wherever you are.
Manya Lazaroff
Working on your attitude? Let Manya, from Chabad at Texas A&M, be your guide. She's fun and insightful, and she'll show you how the attitude of gratitude starts the moment you wake up.
Rochel Flikshtein
Rochel's got a way of helping each of us find our own personal and meaningful connection to Judaism. She co-directs Delaware CTeens and has mentored teens around the world.
Itty Kay
Itty's our guide for the week – taking us from one discussion, workshop, class or performance to another. If you like to think out of the box, don't miss her the first half hour of every day.  
"Madrichot"
Plural for Madricha (counselor) – they're part big sister, part guide while you're in Virtual UnCamp and probably long after. You'll meet them in chats in and out of class, on topics that you choose.  Throughout the day, they're the people you'll connect with…who'll help you connect with others.  
Leah Ali
Leah is a proud UnCamp alum of 2015. She was trained by a master color palette analyst in styling the four seasons and now has her own business as a fashion consultant and personal shopper. 
Mushkie Aber
Mushkie is a certified personal trainer who is passionate about helping women feel strong. Mushkie works with clients one-on-one and offers virtual group classes as well.
Dini Freundlich
Dini is the co-director of Chabad of Beijing, China, where together with her husband she meets the needs of a multifaceted community of businesspeople, diplomats, tourists and backpackers. 
Liwen Yaakoby
Liwen is a serial software entrepreneur who founded two software ventures. She's a former Morgan Stanley executive with 25 years of IT experience managing global scale products and platforms. 
Dalia Shusterman
Dalia is a Chassidic drummer and founder of the all-women's band, The New Moon All Stars. She and her bandmates make music – a mix of Chassidic flair, Sephardic flavor, twists of jazz, bossa nova and French café - to uplift the women of the world.
Zeissa Kugel
Zeissa is a many-times over Bais Chana alum who believes in joy, the power of words, and everyday miracles. She's our Spoken Word and Slam Poetry coach and mentor. 
Rachel Udkoff
Rachel is an artist and Interior Architectural Designer specializing in Mikvaot. She's inspired by Kabbala and incorporates this mystical dimension of Torah in her multi-media designs. Prepare to be amazed. 
Bassie Rosenbaum
Bassie is a film-maker and teacher. She's got a personality test with a twist that will teach you some surprising things about who you are and who you can become.
Brochie Mishulovin
Brochie is our moderator and guide for week 1. She's a veteran UnCamp madricha, who has a great grasp of the big ideas we'll be talking about and a passion for making them real and relevant to teens. 
Emanuella Boroda
Emanuella is a proud UnCamp family member since 2013. She lives in Jerusalem where she studies psychology, teaches Torah and eats too much chocolate. She's married all of 4 weeks. 
Sammi Merenfeld
Sammi is a self-taught sourdough baker who started her own business called SammiBakesBread, all in the pursuit of removing the stigma that it's harder to take care of a starter than yourself. 
What About Cost?
You choose.
You choose what to pay: $180, $250 or $540 per week. No matter what you choose, you're welcome to attend as much as you want.
Need financial assistance? Don't wait - email info @jewishuncamp.org now.
For your online safety, you must sign up. If you have a discount code, enter it on the payment page. 
Once you're all signed up, you can expect email login details the night before each week starts. 
Need financial assistance in order to come? Would a payment plan work? Prefer to send a check? Need a scholarship? Email info@ jewishuncamp.org and we'll get back to you right away.
Sign up by June 22, and watch your mailbox for UnCamp swag.
Too old for UnCamp?
Check out what's next for college students, single moms and women of all ages.